30mm deep 30mm wide carbon mountain bicycle wheelset SM049 mtb bike wheels
As high-end as and good price it gets.
Hookless, optimized to withstand what the best riders in the world can dish out, the superlight XCO 30mm carbon rims are the foundation of a fast wheelset. More velocity can be found in the forged and bladed spokes, in the wheel build quality, on par with what the top pros get, and in the ultra-smooth, precision machined 6 pawls System hubs. The ingredients for speed are there, now it's up to you to make it happen.
The XCO 30 is for anyone who enjoys high-speed climbing and descending. Fit with tubeless tires, the full carbon hookless rim massively reduces the chance of punctures, is super light and at 30 mm rim width works to perfection with wide all mountain rubber. wheel build it complements the carbon rim for the ultimate trail bike wheelset
Product features
Use: XC, Cyclocross
Diameter: 29" and 27.5 "
Rim width (in): 30mm
Rim width (out): 23.4mm
Holes/Spokes: 30mm
Tire Type: Clincher tubeless ready
Valve hole: Presta / SV Ø 6.5 mm
Rim material: Carbon
Rim color: UD Carbon
Hub DT swiss 350 Axle System
front: 15x110mm TA
rear: 12x148mm TA
Disc Mount: Center Lock
Spokes: CN424, Sapim xc-ray
Nipples: CN black aluminum
Lacing: 3-cross
Freehub body:
Shimano MTB 9-/10-/11-speed
SRAM MTB 9-/10-speed
Freehub: 6 pawls System
Weight: 1500g +/-5% 29er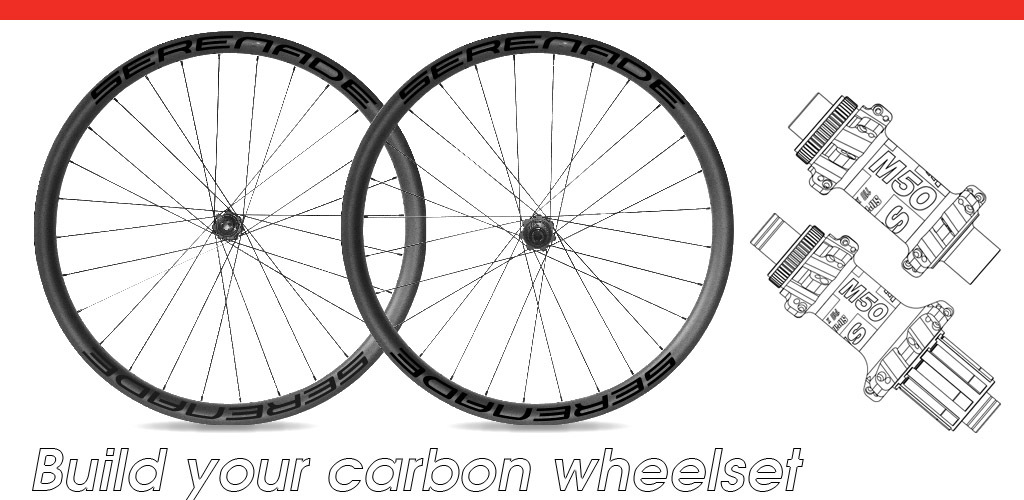 In here you can find many different type of bicycle parts.

Pick up: Mtb carbon rims, Mtb carbon wheels. Road bicycle rims. Road bike wheelset.
If you have any question, please contact us.
Mail: info@serenadebikes.com
cherry_sale@serenadebikes.com
Whatapp: + 86 180 2020 4229 Cherry
+86 133 90875769 Jesson
We also recommend these products for your reference

Your cart is currently empty.