1280 gr 35mm carbon road bicycle wheelset Power way R36 hubs 700c 28mm tubeless ready
The Serenadebikes eagle Wheelset, this may improve aerodynamics and handling should you run 25-28mm tires on your training rides. The wheelset is an carbon body with an carbon brake track for rim-brake serenade bikes. As the name hints to, the EAGLE Wheelset is designed to be a happily battered wheelset to see you over heavy training miles on harsh roads and through constant crosswinds. Yet Serenade wheels have a reputation for being relatively indestructible, so even after a full winter of mucky base miles on roads full of summer's decay, a quick tune-up will get these wheels primed for the start line of the racing season.

.Holding tight to tradition, serenade quick-release, rim-brake shallow wheelset

.Aero-shaped carbon in a shallow depth for fast accelerations

.Low profile helps stabilize crosswind turbulence

.Ready for back roads, classic terrain, and alpine summits

.Rim brake design with an carbon brake track

.Maximum pressure of 80psi recommended by Serenade

.Can be use for tubeless ready

35mm carbon road bicycle tubular wheelset Power ray R36 hubs tubeless

TECH SPECS


Rim Material : carbon fiber T700+T800

Wheel Size: 700C

Tire Type: tubed clincher, tubeless compatible




Rim Depth: 35mm

Rim Width: 28mm, 25mm

Weight Limit: 120 kg




Brake Compatibility: V-brake

Hubs: Power way R36

Spokes: Spaim xc-ray

Wheels weight:

1280+/-30 gr tubeless

1180+/-30 gr tubular

Front Axle: 100 x 5mm QR

Rear Axle: 130 x 5mm QR

Spoke Count: 20 / 24

Recommended Use: Road cycling

Manufacturer Warranty: 1 years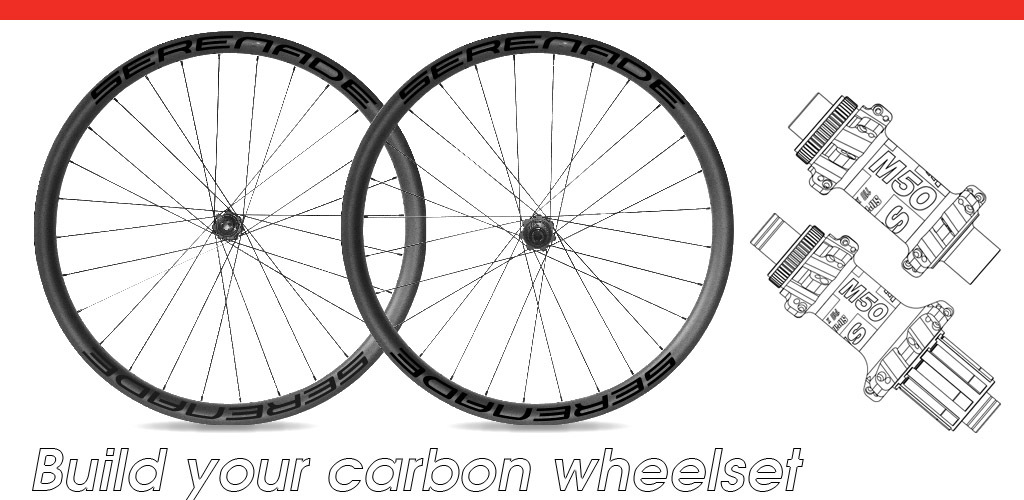 In here you can find many different type of bicycle parts.

Pick up: Mtb carbon rims, Mtb carbon wheels. Road bicycle rims. Road bike wheelset.
If you have any question, please contact us.
Mail: info@serenadebikes.com
cherry_sale@serenadebikes.com
Whatapp: + 86 180 2020 4229 Cherry
+86 133 90875769 Jesson
ByAndrew JonesSaturday, 24 October 2020
Produit conforme malgré un léger voilage de la roue avant mais après échange avec le vendeur, il prend en charge le coût du dévoilage, sûrement lié au transport. A mon avis, les roues pourraient être encore d'avantage protégés dans le carton. Sinon, le poids annoncé est respecté, belle finition. Délais de fabrication très long, 2 mois pour cette finition, puis livraison en 10-15 jours en ayant pris la livraison conseillée par le vendeur , pas de frais de douane. J'ai roulé seulement 200km, pour l'instant les roulements ont l'air bons. Je posterai un avis complémentaire plus tard
We also recommend these products for your reference

Your cart is currently empty.