Serenade ROCK 28" 40mm Road Carbon Wheelset - Centerlock - 12x100mm | 12x142mm - Shimano HG -XD
Serenade ROCK 28" Road Carbon Wheelset - Centerlock - 12x100mm | 12x142mm - Shimano HG -XD
In Cooperation with Serenade®: Rock Special Edition for Serenade Bicycle Components.
The rock 28-inch wheelset accompanies you in your competitions with a 40 mm high carbon rim. Outstanding aerodynamic properties and minimized susceptibility to crosswinds provide you with decisive propulsion, extreme precision in the corners and unique straight-line stability. The tubeless-ready carbon rims are hand-spoked and allow for maximum stiffness and stability. Start your way to victory with the ROCK 28-inch wheelset and leave the competition in the dust.
Features of the Serenade Rock 28 Inch 40mm Road Wheelset
Rims
Carbon Double Wall Rim
Ud matt black
Toray T700+T800 carbon fiber
Clincher (Tubeless Ready), Tubular
Rim height 40 mm
Rim width (outside) 28 mm
Inner width 21/18 mm

Hubs
Serenade SM037-F12 (front wheel) and SM037-F12-11S/XDR (rear wheel)
Ratchet system 36T
Centerlock mount
Front-wheel 12x100 mm, rear wheel 12x142 mm thru-axle
Front-wheel 24 holes / rear wheel 24 holes
industrial bearings (front wheel 2-fold, rear wheel 4-fold)
sealed, replaceable bearings
interchangeable cassette body, Shimano 11s, XDR, Micro spline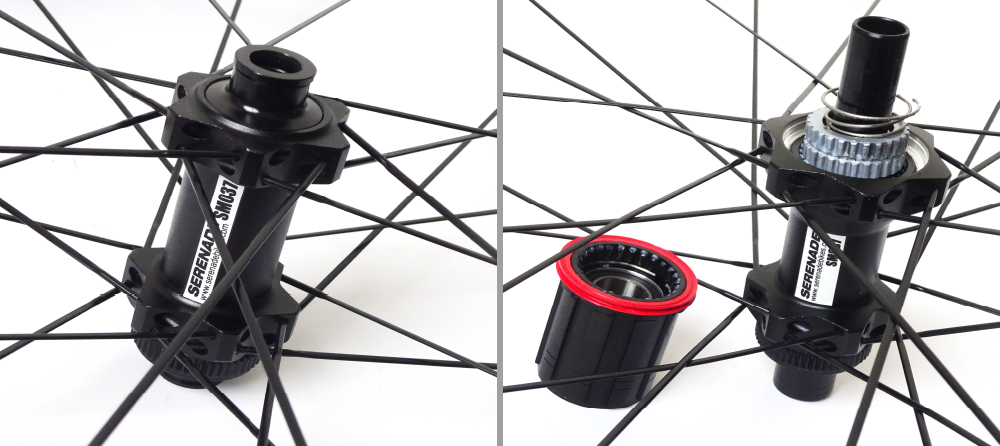 Included in delivery
Front-wheel
Rear wheel, freewheel 10/11-speed compatible
incl. rim tape

Weight:
1. Pillar 1423 spokes
28mm (TRF40T) tubular 1310gr,
25mm (TRU40T) tubular 1300gr,
28mm (TRF40S) Clincher 1450gr,
25mm (TRU40S) Clincher 1440gr,
2. Pillar 1420 spoke and Sapim cx-ray spokes.
28mm (TRF40T) tubular 1210gr,
25mm (TRU40T) tubular 1200gr,
28mm (TRF40S) Clincher 1350gr,
25mm (TRU40S) Clincher 1340gr,
Range of application
The wheelset is intended for use on road bikes (category 1). Use on unsuitable bikes (e.g., tandem, MTB) is strongly discouraged. Improper use of the wheelset can lead to life-threatening injuries.
ByMatthiasMonday, 05 December 2022
Great product! After a group ride my friends noticed my new wheel set already and asked me a lot of questions. I highly recommend this product! It sounds very aggressive whether you're pushing or free wheeling. And the seller is really good! Great communication skills and gives updates on time! 5 star or more!
We also recommend these products for your reference
The holt products for you

Your cart is currently empty.