Shell 60mm road bicycle wheelset tubular carbon rims 28mm 25mm wide dt 240 hub
"Strong. Light. Cheap. Pick two." It's a saying that still holds true when it comes to road bike wheels and they're often a component brands look to save money on.
Once you've got a quality frame, wheels are arguably the best upgrade you can give your steed.

As the means to keeping you rolling, wheels must offer smooth and dependable hubs for a drive; high stiffness for accurate tracking; be able to hold a tire at great pressure; provide a surface for consistent braking, and achieve all of this while still being as lightweight and aerodynamically efficient as possible.
If you're looking for a wheelset that will offer versatility, then you could do much worse than the Serenade wheels, which are compatible with tyres from 25-50mm wide. Tubeless tyre installation is a breeze thanks to the hook rim design, although not all tyre brands are compatible.
700C 60mm Carbon road bike wheels disc brakes tubular rims DT240 hub
Product Description
Rim:
Wide: 28mm / 25mm wide
Depth: 60mm
Tire: Tubular
Braking System: Disc brake
Applicable Bicycle: Road Bicycles
Appearance: UD/3K/12K
Finishing: Matte/Glossy
Material: Full carbon fiber (Toray T700 +T800)
Weight: 420±15g
Spoke Hole: 16H-36H
ERD: 520mm

Standard: En Standard
Assembly Hole Dia: 8.5mm
Spoke Hole Dia: 4.5mm
Valve Hole Dia: 6.5mm
Roundess:<0.25mm
Flatness:<0.15mm
Max Spoke Tension:>350kgf
Weight limit:<100kg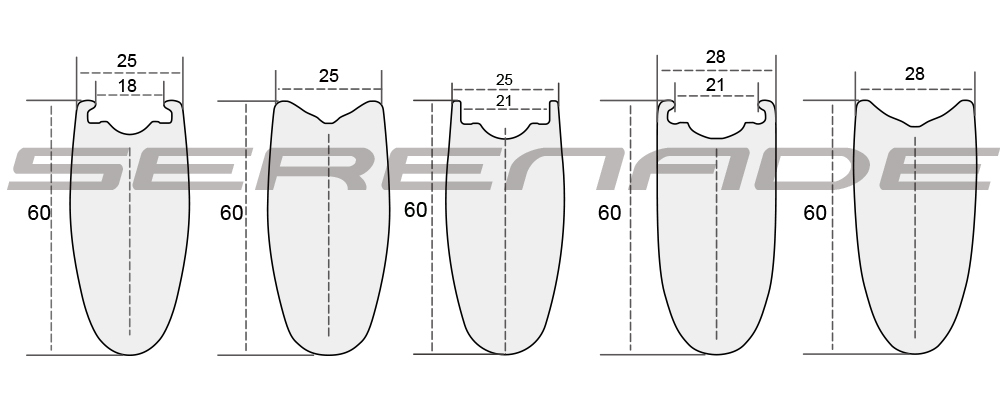 Hub:
Dt Swiss 240 Exp 2021 disc road 24H
Freebody: Shimano 11S, XDR, Micro spline
Spoke:
Sapim cx-ray, Pillar 1420, Pillar 1423 Black
Color: Black
Nipple:
aluminum 14G black
Wheels weight:
1430 gr +/-5%, Sapim cx-ray, Pillar 1420
1510gr +/-5%, Pillar 1423
Warranty:
1 year free replace in normal used.
We also recommend these products for your reference
The holt products for you

Your cart is currently empty.